The Hollywood Costume Exhibition
My sister decided she would give me a surprise on the weekend and took me to the ACMI museum in Federation Square, in Melbourne.
I had not heard about this exhibition at all so it was very exciting to be surprised. I was so keen to get down into the exhibition and start looking around.
The exhibition was about showcasing pieces from all different Hollywood movies. The first piece that you see hanging from the ceiling is Nicole Kidman's light pink costume from Moulin Rouge. You then go through to rooms and rooms of costumes from other blockbuster movies.
One of my favourite pieces was Roxie Hart's long black beaded dress from the film Chicago. The detail in it was so impressive and I loved the sleek design.
Keira Knightley's green dress from the film Atonement was another of my favourite pieces. I found reading about this item was really interesting. The director wanted to portray a sense of vulnerability so the designer used this idea to create a piece that was almost nude like in its structure.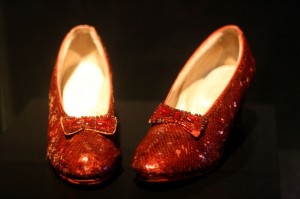 Judy Garland's Dorothy costume from the 1939 rendition of the Wizard of Oz was also there. The actual dress was the original; however the ruby slippers were recreated as of 2012. This piece was a real ring in for the exhibition and I witnesses lots of little girls admiring the red sparkles on the shoes.
It was really special to see all of these blockbuster costumes and although all I wanted to do was touch them, I still found the whole experience fascinating.