La Peluche AW15 Collection…
Year 2, Semester 1 at the Whitehouse Institute of Design… Our brief for this semester was to design and make a two body collection, incorporating an original print and channelling an Autumn/Winter aesthetic.
I named my collection La Peluche which is French for plush. I took the soft, luscious elements and juxtaposed them with my bold print.
I created my print from an image I took of the internal architecture at the NAB building across the bridge. It is an amazing building and I am often there as that is where my sister works. I then manipulated it on Photoshop before mirroring a section to make the print you now see. I have included the development in my folio. I created the stripe print using small slivers of the image.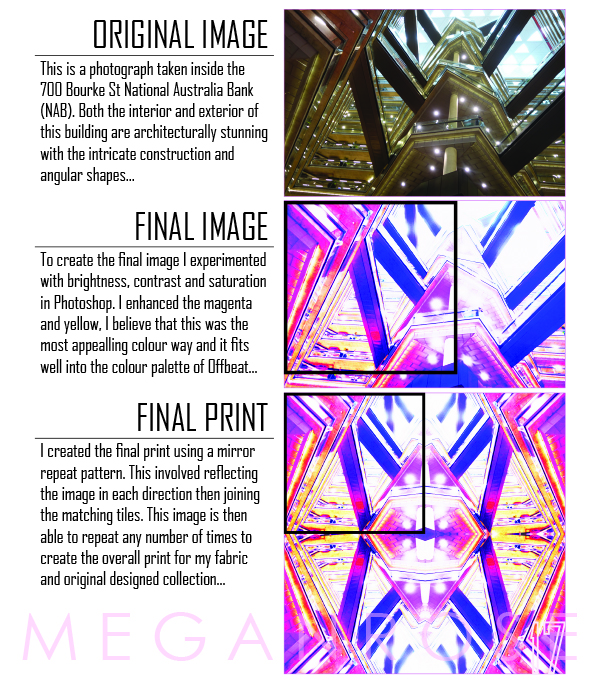 I definitely believe that my collection was on trend! The silhouettes of the wide leg pant and having bulk around the neck can be seen from many designers latest collections, especially Chanel's bar runway for AW15. The over-sized long length coat is also on trend but I took a different spin on it adding the cloak like hood. I wear my dressing gown everyday so I wanted to design one I could wear out of the house.
The scarf and belt I have hand knitted myself from unspun merino wool roving that is untreated and even has small husks entwined. I searched for all different products that I could use for this and I found this gave me the bulky look I was going for whilst still being cushiony and comfortable for the wearer.
Thank you to my beautiful models Heidi Fettke and Lucille Croft and thanks also go out to the lovely Chloe Elizabeth for the photographs.